Fresh Start Retreat
30th November
Sunday to
4th December
Thursday 2014
A stunning South Island location... A weekend that will change your life!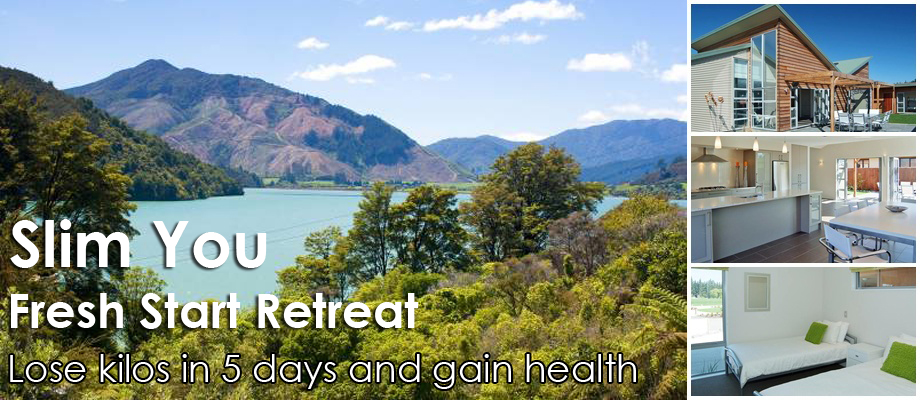 The moment we have all been waiting for!

Come spend the 5 days with Phyllis Briggs in the stunning and beautiful Kaikoura. This 5 days is action packed and an experience you will never forget.
What can you expect?
5 days that will change your life. Come with an open mind, and you will be amazed at what can happen in only a few days. And of course, you get 4-5 days of intensive input from the expert.
Cooking
Cook Yourself Slim with Phyllis

What Phyllis doesn't know about food isn't worth knowing. Phyllis will be cooking with you and showing you how to prepare the most stunning meals, gourmets, chef tasted quality, we have also juicing, and snacks introduced.

Learn to strip fat fast from your body and feel great at the same time. Manage cravings, slim down, feel energised and enjoy great food!

Get inspired to make some lifestyle changes of your own, this could be your recipe for success.


One of the biggest reasons that people find it difficult to eat well and prepare meals at home is lack of time and ideas for healthy meals.
We will help you to enjoy cooking!
Mindset Sessions

Phyllis Briggs - 33 kilos lighter - She Succeeds - Mindset sessions

Described as the glue for the group, Phyllis is so delighted with her new figure and zest for life that her mission is to help as many people as she can to get to there too!! Recently returned from spending a month in Bali, learning new and latest ways of lossing weight that contribute to your health and not take away from it.
Exercise Sessions

And introducing…. Exercise sessions


You do not have to worry about your fitness level, as you will be divided into the group most matched to your ability. These sessions are going to show you what you are truly capable of. Which displays and encourages a holistic approach to training and believes that health is accessed and achieved from the inside out.

This is an awesome opportunity to make the most of their expertise - tailored specifically for you!!!!
Tibetan Rights and Chi-Gong

Tibetan Rights and Movement sessions with Phyllis every morning

Phyllis starts her day with Tai Chi and believes this helps her to focus and manage all the things she does in a week. It oxygenates your body and has been practised for centuries.
This is an action packed weekend of learning as we want you to get the most out of the weekend so we expect everyone to be well rested to best maximise their time at the retreat.
Daily Walks

Phyllis will show you how to use a 20 minute session that burns three times the amount of calories that a 1 hour walk would usually do.
Daily walk around many of the walking tracks and along the beach
Meet and mix with attendees from all over the country and explore Kaikoura with some new found friends - no stopping at any of the cafes on the way though! and sooo much more......
Guided Meditation

Phyllis is a trained hypnotherapist and she will do group sessions as well as looking at tailoring these to suit your individual needs.
Book now to secure your place on the Retreat
30th November Sunday to 4th December Thursday 2014
Payment Options

Kaikoura



Book now to secure your place on the Retreat


3 share room
A room for 2
Own room

3 Day Option

4 Day Option
Please call

(03) 384 7451

to secure your spot or email

This e-mail address is being protected from spambots. You need JavaScript enabled to view it
Please note:
We will accommodate people's individual wishes such as sharing requests where possible.
If you are attending with a friend please let us know at the time of booking so that we can room you together.
If you are coming but do not know anyone to room with then please let us know and we will pair you up with someone.
All meals are of gourmet standard and no expense is spared to bring you the retreat of a lifetime!
Our February 2014 retreat was booked out, and because most attendees have decided to participate again on June 2014 we recommend that you get in quick. We have made it possible for you to reserve your space on the retreat by making a $100 (refundable) deposit. Payment plans and further details can be discussed by calling us on (03) 384 7451 or email This e-mail address is being protected from spambots. You need JavaScript enabled to view it